In this lesson, you will learn how to draw a snail using these 9 step pictures. Simply follow the steps below to create a snail in a matter of minutes. I know that snail drawing is a little hard but don't worry, these step-by-step pictures with video guides will be helpful for your drawing session.
Snail Facts: Gastropoda is the scientific name for snails. They are a combination of two Greek words that mean "stomach" and "foot." Three general categories of snail: land, sea, and freshwater snail. There are 85,000 or more gastropod species in the world. Snail lives up to 10 years. These creatures can be found almost anywhere on Earth, including oceans, rivers, lakes, forests, mountains, deserts, and even botanical gardens. Snails are covered in shells and rows of small teeth in their mouths. That consume worms, vegetation, animal waste, fungus, and bacteria.
Know-it-all Before You Start…
Drawing Materials:
Drawing Sheet
Pencil, Eraser
Water Color/ Crayons
Expected Time:
40 minutes (Including Coloring)
Snail Drawing Instructions:
Step 1: First draw a spiral-shaped figure for the outer covering of the snail.
Step 2: Now draw a spiral shape that resembles the hard covering of the snail.
Step 3: Around the round shape I draw a betel leaf-like structure.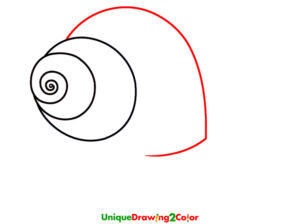 Step 4: Draw a curved line just behind the betel leaf structure.
Step 5: Draw an asymmetrical structure just beneath the above-drawn structure.
Step 6: Draw two upper tentacles just above the head of the snail.
Step 7: Draw the lower tentacles of the snails.
Step 8: Now add the details to the picture.
Step 9: Now fill color to the snail and just make it complete.
How to Draw Snail Step by Step
If you're still having trouble after following the above instructions, simply print out this step-by-step printable image. It'll be a great choice for learning how to draw a snail.
Video :
You can also watch this 4 minutes video tutorial for more clarification.
It is a simple and easy drawing, but it may become more complicated if you do not carefully follow my instructions, so I recommend you follow the instructions step by step and draw a snail easily.